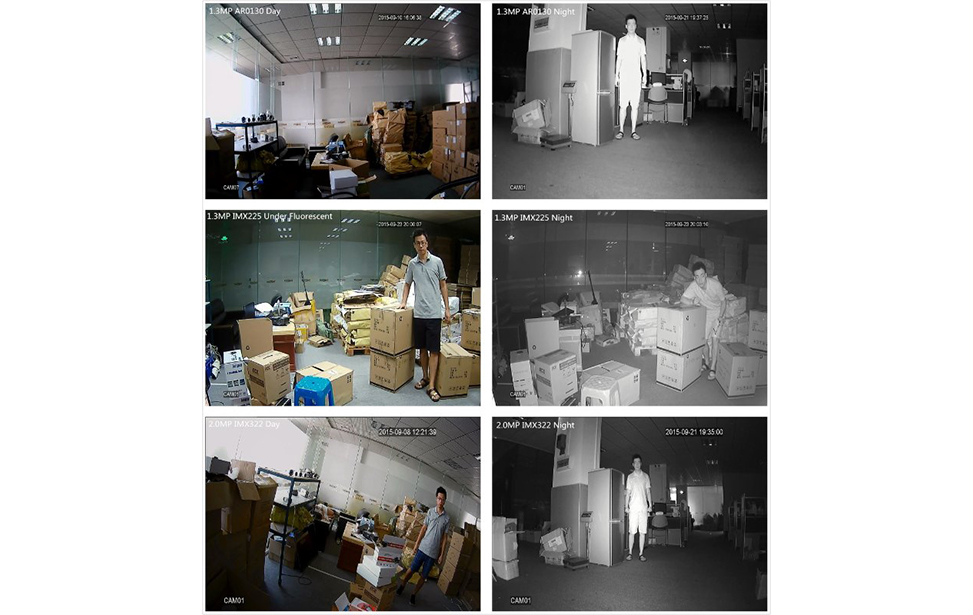 Do not just focus on resolution,but also focus on the solution(including sensor and chip) Chipset: mainly Nextchip chipset,we suggest NVP2431H and NVP2441H. Image Sensor: Mainly Sony,Aptina,OmniVision,other sensor brands,Its better use the first 3 image sensors.
Even its the same solution,you also need to test it,because the image quality could also have big difference based on different technical level.
What is the difference of difference solutions? We compare them from Daytime image quality,nightime Image quality and true color.
0MP 720P:

NVP2431H+OV9712(OmniVision):Sell most totally in 1.0MP solutions with a history of 7 years,not so cost-effective now. Daytime:B+ Nightime:B- True color:B
NVP2431H+H42(Silicon Optronics):Most popular solution at present.Lower price than Solution a. Daytime:B+ Nighttime:B True color:B
NVP2431H+BYD3016(BYD):Lowest price,for price senstive customer. Do not suggest.
3MP 960P:

NVP2431H+AR0130(Aptina):Most cost effective in 1.3MP solution. Daytime: A- Nighttime: B+ True color: B+
NVP2431H+IMX225(Sony):Becasue of short supply of IMX238,Sony IMX225 is going to replace Sony IMX238,very little difference from Sony IMX238. Daytime:A Nighttime:A True Color:A
NVP2431H+IMX238(Sony):In short supply now,Very good image quality in night and true color. Daytime:A Nighttime:A True Color:A+
0MP 1080P:

NVP2441H+Sony IMX222(Sony):Sensor also in short supply,little difference from IMX322 sensor. Daytime:A+ Nighttime:A+ True Color:A
NVP2441H+Sony IMX322(Sony):Sell more and more because of high resolution demand,price getting cheaper and cheaper. Daytime:A+ Nighttime:A+ True Color:A
NVP2441H+0230(Aptina): New solution,not as good as Sony IMX322 in night and true color,but lower price. Daytime:A+ Nighttime:A True Color:A Here below is the comparison of 1.3MP AR0130 and IMX255 and 2.0MP Sony IMX322.
---